ngNOG 2016 Report
The Nigerian Network Operators' Group (ngNOG) Workshops & Conference is the foremost
capacity-building activity of ICT personnel and other stakeholders in Nigerian Higher Education.
More than 800 network engineers, managers, and librarians have been trained at ngNOG.
Unlike previous editions which have been hosted by Universities, a Polytechnic, and an
Education regulator, the eleventh annual edition of ngNOG was hosted by the Nigeria ICT
Forum secretariat at Hotel Reno, Katampe, Abuja from 01st – 05th November 2016. A one-day
Conference held at the Rockview Royale Hotel, Wuse Abuja on Monday 31st October, 2016 to
start the week officially.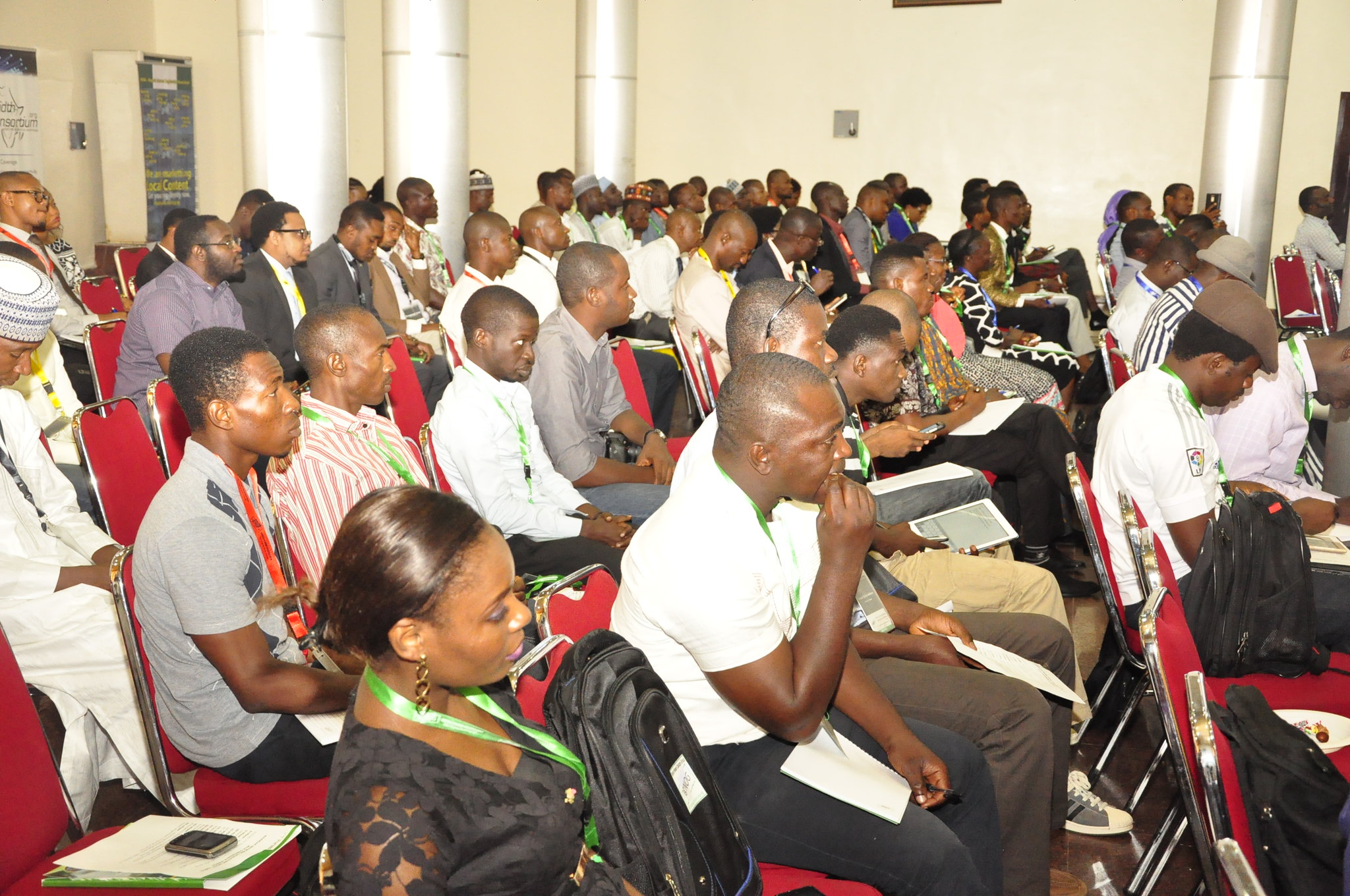 ngNOG Conference
The ngNOG Conference had a total attendance of 200 people from Tertiary Education
Institutions, Government agencies, ICT companies, and other sectors. The full-day event had
panel sessions, lightning talks, presentations and engaging question-and-answer sessions.
The first panel session was on Lessons from managing large ICT organizations with panelists
including Professor Ayodeji Oluleye, University of Ibadan , Professor M. N. Maiturare, Vice
Chancellor, IBB University, Lapai , Mr Gabriel Fuster Director of Information Systems,
American University of Nigeria, Yola and Dr Amina Idris, Acting Director, National Board for
Technical Education Center of Excellence for TVET, representing the NBTE Executive
Secretary.
The second panel session was on Internet Infrastructure- What the traffic rides on. How is
Nigeria really doing? with Dr Yusuf Kazaure CEO, Galaxy Backbone Plc , Rev. Sunday Folayan
President, Nigeria Internet Registration Association , Muhammed Rudman CEO, Internet
Exchange Point of Nigeria, Mr Ahmed Atere CEO, MEED Networks , Mr Joshua Attah
Managing Director, Nigeria Research & Education Network as panelists.
The third panel session was on Internet Governance, Naming and Number Resources. Who is
responsible for what? How it affects everything else Rev Sunday Folayan (NIRA), Mr
Adewole Ajao Bandwidth Consortium , Mr Seun Ojedeji Federal University Oye Ekiti and Mrs
Mary UdumaNigeria Internet Governance Forum as panelists.
Presentations at the conference included
Goodwill message delivered by Dr Aminu Ibrahim (Convenor, Nigeria ICT Forum)
ngNOG Update by Dr Adedokun Adewale (ngNOG National Event Coordinator)
Internet Infrastructure – What the traffic rides on. How is Nigeria really doing by Muhammed
Rudman (Managing Director, Internet Exchange Point of Nigeria)
Internet Governance: Naming, Number Resources. Who is responsible for what? How It Affects
Everything Else by Seun Ojedeji
Nigeria Internet Registration Association: Infographics by Rev Sunday Folayan
Leveraging the Digital Bridge Institute, Capability for Human Resource Capacity Building by Dr
Ikechukwu Adinde
The discussion sessions following each of the presentations and panel sessions were very
engaging and received plenty of positive feedback from delegates present. The conference
presented top level executives and other stakeholders with an opportunity to express and
appreciate the opportunities and challenges in play as well as share insights on how to improve
the state of Information and Communication Technology in Nigeria.
ngNOG Workshop
The workshop had 64 participants from 32 institutions/organizations in four tracks that ran
concurrently. As part of efforts to prepare the next generation, 10 undergraduates and fresh
graduates were engaged as interns to support the workshop and also take part in the training.
The System Administration(SA) track participants performed hands-on virtualization, system
installation, file system management, handling system boot procedures, user administration,
process management, services and server installation & management, back-ups and remote
logins with Ubuntu Linux as the operating system of choice.
The Internet Services track (IS) focused on the design and operation of services running and
deployed on networks, with emphasis on scalability and improving service delivery. Sample
services covered include DNS, Email, Voice over IP, Authentication, Network monitoring and
Virtualization on Linux platforms.
The Internet Infrastructure track (II) was aimed at Internet Protocol Networking; Basic routing;
OSPF routing; BGP routing; Management of router configuration; NOC (Network Operations
Centre); Internet Exchange Points between networks; Network Security. Network Monitoring and
Management tools which include cacti, Nagios, and LibreNMS, Basic Wireless infrastructure and
Security.
Web server management, applications development, content management systems, learning
management systems, content developments (animations, audio editing, video editing, etc) were
areas of focus in the Application and Content Development track (ACD).
Evening Discussions
To make the most of the time together, evening sessions were held daily after dinner with most
participants in attendance.
The business of registering .ng domains was the topic for the first day. Feedback on the Internet
Society, ISOC Introduction to Network Operations online course had positive reviews from
participants who expressed enthusiasm and appreciation to ISOC.
A presentation on Ganeti server clusters was made on day two by Abubakar Mohammed of
NIRA. The last evening session featured two presentations on Moodle for Computer-based
testing by Makinde Matthew and Google Apps for Business by Obaniyi Oluwatoba.
Participants were also taken on a site-seeing visit to Usuma Dam located in Bwari area of the
FCT. They also visited Area 1 Kilishi spot to pick up an "on the road treat"
Appreciation
The ngNOG 2016 was a success through partnership and support from Acti-Tech , AfriNIC ,
Bandwidth Consortium , (BWC) , Google , Internet Society (ISOC) , Layer3 , MEED Networks ,
Nigerian Communications Commission (NCC ) , Nigerian Internet Registration Association
(NIRA) ,Nigerian Research and Education Network (NgREN) , NISTECH , Technology Times .
We are grateful to the various Institutions and Firms, who contributed instructors and
presenters. They include: Yaba College of Technology, Lagos; University of Jos; Ahmadu Bello
University, Zaria; University of Benin; Bayero University Kano; the Bandwidth Consortium;
NISTech Ltd; Ice Cool Contrats Ltd; University of Abuja; Eko Konnect; and Federal University of
Technology, Akure
On behalf of the ngNOG Admin, we wish to express our appreciation to all the Instructors,
conference presenters, interns, local and international partners for their support in cash and in
kind towards the success of the ngNOG 2016 event.
The Nigeria ICT Forum of Partnership Institutions expresses special appreciation to all the
organizations that made it possible for their personnel to attend the full week of training either as
instructors or as workshop participants.
While we look forward to regional events in the coming year, we remain fully committed to
applying the lessons and insights from the national event to the growth of Internetworking and
ICT in Nigeria.